Dental Implants Can Achieve Single-Tooth and Multiple-Tooth Replacement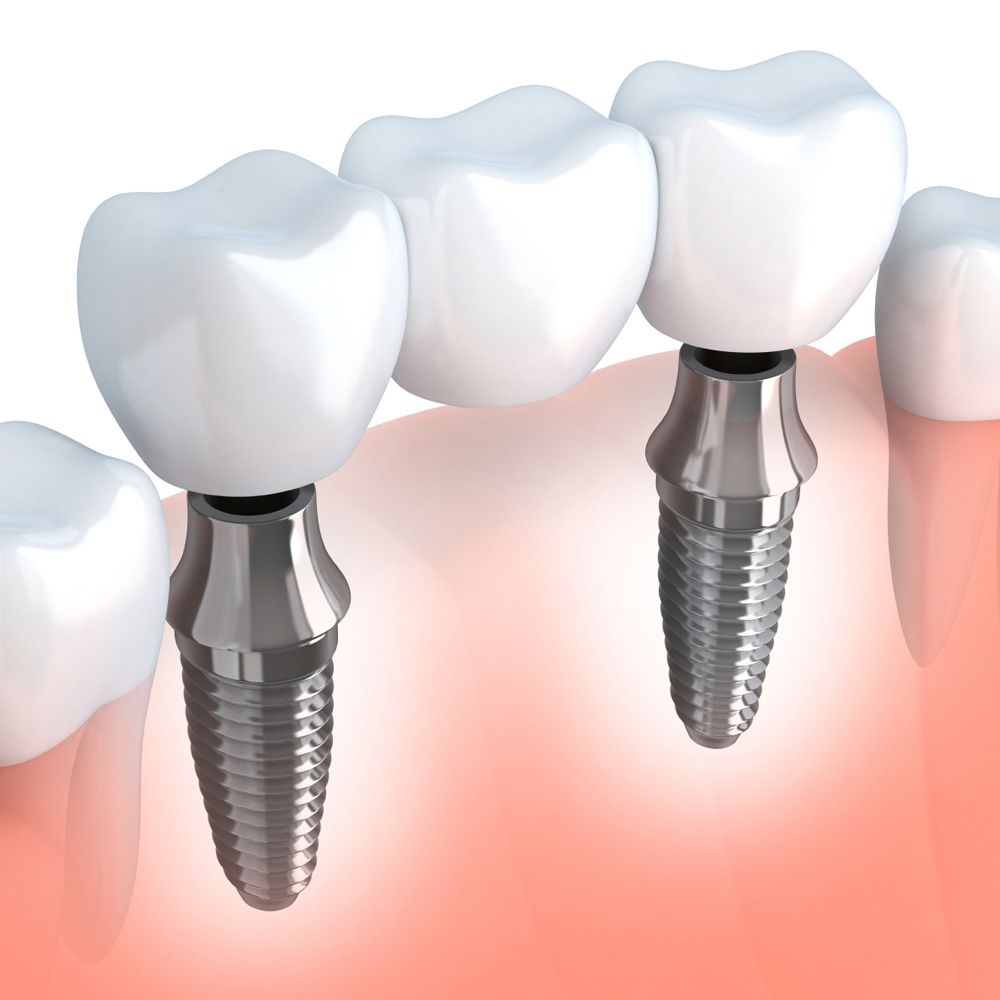 Dr. Peter Hellwig is one of the leading dentists in the San Diego area, offering patients the ability to smile with confidence. When patients are missing teeth, he often provides ample information about dental implants, an ideal solution for missing teeth.
We'd like to explore the basics of implant dentistry and then see how dental implants can be used to replace a single missing tooth as well as multiple missing teeth.
Problems Associated with Tooth Loss
When a person is missing a tooth or multiple teeth, a number of issues may arise.
For one, tooth loss can make eating more difficult. Certain teeth have certain tasks, and when you're missing certain teeth, it can lead to a number of problems with biting and chewing. You may not be able to eat certain kinds of foods any longer, or at least with relative ease.
When missing a tooth, issues with gum recession and bone loss are common. Without the root structure in place to support, the bone and gum tissue will simply recede, which can in turn result in problems with tooth alignment for the teeth adjacent to the tooth gap.
And of course there are also the aesthetic issues to keep in mind. Major gaps between teeth can mean serious cosmetic flaws.
About Dental Implants
Dental implants are artificial tooth roots that are surgically implanted into your jawbone and gum tissue. When in place, these artificial roots function just as your natural tooth roots would. They are able to support various kinds of restorations and appliances for single-tooth replacement or multi-tooth replacement. Dental implants prevent gum recession and bone loss as well.
Ideal Candidates for Dental Implants
The best candidates for dental implants are people in good overall health with healthy bone density in place and healthy gums as well. They should be able to tolerate an oral surgery procedure without potential health risk.
Getting a Dental Implant to Replace a Single Missing Tooth
When a patient is missing a single tooth, a dental implant can be placed in order to support a single dental crown. The crown is custom fashioned in order to fill the gap.
How Secure Are Implant-supported Dental Crowns?
The implant-supported crown is extremely stable, able to remain in place when a patient normally bites and chews. The likelihood of the crown slipping out of place is low.
Getting Dental Implants to Replace Multiple Missing Teeth
When a patient is missing multiple teeth, it's not uncommon to use multiple dental implants in order to support a dental bridge, a partial denture, or a full denture. The extent of the tooth loss will determine the ideal appliance to use.
How Secure Are Implant-supported Bridges and Dentures?
Implant-supported bridges and dentures are very stable, with the dental implants providing much greater stability than even the best denture creams and dental adhesives. Patients can bite, chew, and speak with confidence without worry of slippage.
How Many Dental Implants Will I Need?
This will depend on the number of teeth missing and the nature of the patient's case. In general, dentists often try to avoid using too many dental implants even when a patient requires a full denture to fill a row of teeth. Spacing out the implants will allow proper anchoring of a denture while also preventing bone loss and gum recession in the process.
The exact number of implants required can be discussed in greater detail during your consultation.
Schedule a Consultation for Dental Implants
If you are missing a tooth or multiple teeth and would like to learn more about your treatment options, be sure to contact our advanced dental care center today. Dr. Peter Hellwig and the entire team at the practice look forward to your visit and helping you have a smile that's healthy and beautiful.
Related to This