Professional versus Over-the-counter Teeth Whitening: Which Is Right for You?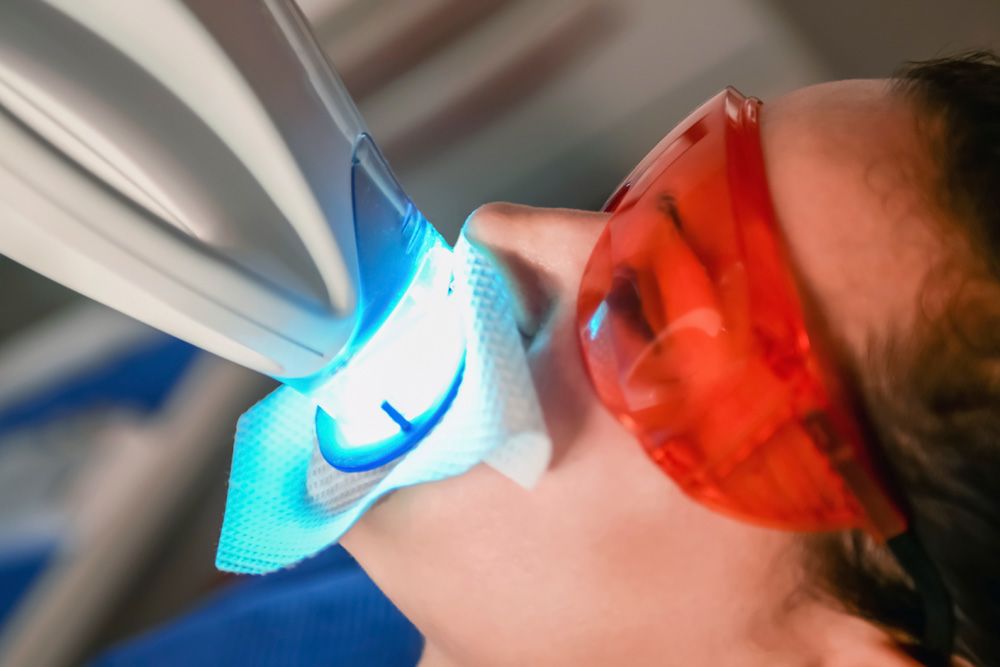 Stained, yellowed teeth can cause patients to feel self-conscious about their appearance and leave the smile looking dull and unhealthy. Cosmetic dentistry treatments, including teeth whitening, can dramatically improve the smile's appearance, addressing dental flaws, discoloration, and other imperfections. If you have discolored, yellowed teeth, you may be considering teeth whitening treatment.
Teeth whitening treatment can quickly improve the smile's appearance. But with so many over-the-counter and professional whitening options, it can be hard to decide which is right for your needs. During patient consultations, Dr. Peter Hellwig explains the difference between professional versus over-the-counter teeth whitening. Schedule a consultation at our San Diego, CA practice to find out which treatment is right for you.
Over-the-counter Teeth Whitening Treatment
Many people choose over-the-counter teeth whitening treatments for its convenience and affordable cost. There are many options when it comes to over-the-counter whitening treatments. Many use a hydrogen peroxide based whitening gel worn with a dental tray or prepared whitening strips. The number of treatments required will depend on each whitening treatments directions. However, most at-home treatments require daily wear of 30 minutes or more for about a week.
Over-the-counter whitening treatments can help those with minor staining achieve their desired results, but those with more severe stains should consider professional treatment. When choosing to use over-the-counter teeth whitening treatments, it's important to keep the following in mind:
Increased tooth sensitivity: Over-the-counter whitening treatments can temporarily increase tooth sensitivity immediately after treatment. Increased dental sensitivity may continue if whitening treatment is overused or used too long.
Gum irritation: Gum irritation may occur after using over-the-counter whitening treatment, especially if whitening treatment is not used as directed or used too frequently.
Uneven whitening results: Over-the-counter teeth whitening can lead to uneven whitening results due to improper application or the teeth not being sufficiently cleaned prior to treatment.
Unsatisfactory results: Over-the-counter whitening treatments are not as powerful as professional treatments, leaving some patients unsatisfied with over-the-counter whitening results.
Professional Teeth Whitening
Professional teeth whitening treatments are customized to each patients needs and utilize more powerful whitening formulas, providing superior results when compared to over-the-counter treatments. There are different types of professional whitening treatments available, making treatment highly customizable to the patient. Dr. Hellwig offers in-office treatments for patients wishing to enhance their smile instantly and take-home whitening options for those who prefer to whiten their teeth on their own time.
Similar to over-the-counter teeth whitening treatment, professional teeth whitening can cause temporary, minor gum irritation and tooth sensitivity. For most, irritation and sensitivity will resolve within a day or so after treatment. Many patients prefer professional teeth whitening over over-the-counter treatments because they provide benefits such as:
Increased whitening results: Professional teeth whitening systems use higher concentrations of whitening agents than over-the-counter treatments, providing better whitening results.
Fast, effective whitening: Professional teeth whitening treatment can dramatically transform the smile's appearance in as little as one 60-minute dental visit. Over-the-counter treatments often require daily wear for at least a week to see results.
Better results: In addition to using higher concentrations of whitening agents, professional treatments are generally administered with special dental tools, like dental lights, to provide enhanced.
Professionally monitored: Because trained dental professionals administer professional teeth whitening treatments, treatments are finely tailored to the patient's needs for optimum results.
Which Treatment Is Right for You?
To learn more about your options for teeth whitening treatment, we invite you to schedule a consultation with Dr. Hellwig.
Related to This